Strawberry Chocolate Ganache Cake is one of the delicious recipes, Cooking tree will show you how to prepare this recipe step by step
I made a really delicious chocolate ganache cake that was sandwiched with ganache cream with almonds on a chocolate sheet and decorated with strawberries! The almonds are chewy and savory, and the chocolate ganache cream is sweet, so it's a really delicious cake~ Decorated strawberries are also delicious, but I like strawberries with almonds the best.
It takes a little time to make, but it's so pretty that it's almost too good to eat, and it's so delicious that it's worth making! Have fun watching it~♬
Follow along with the 📝 recipes below👇🏾👇🏾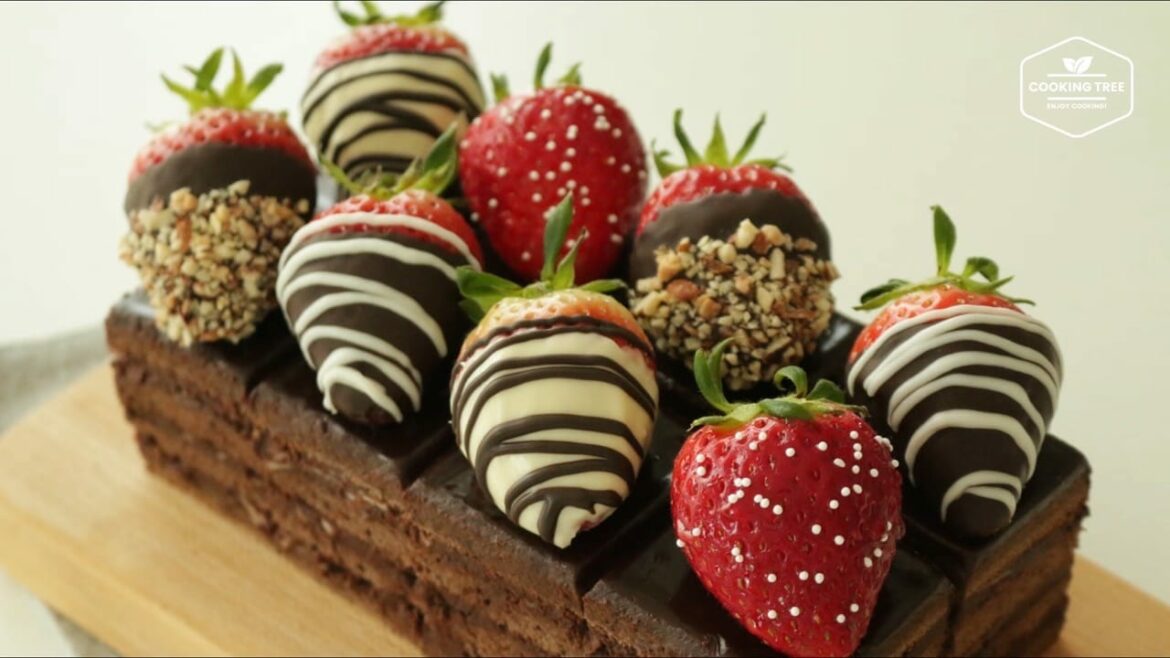 Strawberry Chocolate Ganache Cake
Rating: 5.0/5 ( 64 voted )

Serves: 8 Prep Time: Cooking Time: Nutrition facts: 200 calories 20 grams fat
Ingredients
Strawberry
40g White chocolate
60g Dark chocolate
Chopped almond
Choco pen (white, dark)
Corn syrup
Sprinkle
150g Dark chocolate
150g Hot Fresh cream
20g Butter
50g Almond Slice
Ganache (chocolate 50g+fresh cream 50g)
Instructions
Melt the white chocolate and dark chocolate, then dip them in the strawberries.
Dip the strawberries dipped in dark chocolate with chopped almonds.
Decorate the strawberries dipped in dark chocolate with a white chocolate pen.
Decorate the strawberries dipped in white chocolate with a dark chocolate pen.
Apply oligosaccharide to strawberries and sprinkle with sprinkles for decoration.
Put dark chocolate and hot whipped cream in a bowl and mix, then add butter and mix.
Add almond slices, mix and cool.
Spread ganache cream flat on the chocolate sheet cut into rectangles, then place another sheet on top. Repeat 2 more times.
Sprinkle ganache on the top and harden in the refrigerator for 30 minutes.
Cut the edge thinly and cut it into the desired shape.
Add strawberries.
Did You Make This Recipe?
Recipe video
Thank you for watching~♥
---
Enjoy
---